The St Ives Fishermen's Co-op is situated on The Wharf. It overlooks the harbour where many boats have been moored over the years. The fishing industry has declined and to assure its survival the Society has had to look at other markets and to tourism in particular.
The Society has traditionally traded in protective clothing for fishermen and for those who work in the natural elements. The manufacture of such items has come a long way since The Society first stocked oilskins and leather sea boots. Therefore today the waterproofs are light weight and breathable and modern footwear is stocked for the outdoor enthusiast.
You can find our shop towards the end of St Ives Wharf - just keep going past The Sloop Inn until you reach us. You'll find a great range of clothing and other items for walkers, campers, anglers and other outdoor enthusiasts. There is more information about our products on the Shop page.
If you are interested in staying in a traditional fisherman's cottage in St Ives you'll find more details on our Cottage page.
We very much look forward to hearing from you - any enquiries or comments are most welcome.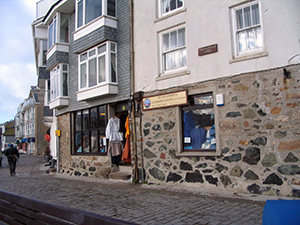 Our Shop - everything for the outdoor enthusiast.